Speaking Engagements, Workshops, and Events

by Jeff McCormack
I welcome the opportunity to share the results of my research with audiences and members of your organization.
Our first book, Bush Medicine of the Bahamas, was honored by the Mary W. Klinger Book Award for outstanding book of the year, awarded in 2012 by the Society for Economic Botany. There are three basic requirements for this award. The book must be: (1) innovative and set new boundaries within the field of study; (2), and/or creatively research or document the use of plants by taking an educational or synthetic approach by integrating different fields of study, especially botany and anthropology; (3), and/or make other outstanding contributions to the field of study.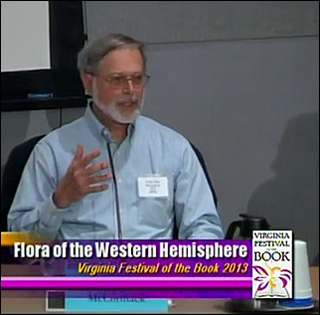 For many years, I have been a sustainable agriculture biologist, researcher in integrated pest management, and founder of two seed companies specializing in organic agriculture and preservation of biological diverstiy. I have also authored seven organic seed production manuals for the USDA, and have been interviewed on local radio stations as well as three different National Public Radio shows and podcasts. I am currently continuing my medicinal plant research in South Andros, Bahamas, and a book is in prepation. I have begun a new research project in Peru documenting traditional plant medicine. The book on Peruvian plant medicine is in the planning stages, and will be bilingual in English and Spanish, and will include Quechua plant names.
My presentations can be customized to meet audience sizes, topics of interest, and length of presentation. I have been a keynote or guest speaker at local and national locations, for example:
Monticello, Hertitage Harvest Festival, Charlottesville, VA [4 events]
Virginia Festival of the Book, Charlottesville, VA
Seed Savers Exchange, Decorah, IA [3 events]
United Plant Savers, Planting the Future Conference, Charlottesville, VA
University of Virginia, Charlottesville, VA [3 events]
Christopher Newport University, Newport News, VA
Sweet Briar College, Sweet Briar, VA
Virginia Association for Biological Farming, Lynchburg, VA
Carolina Farm Stewardship Association, Sustainable Agriculture Conference, Durham, NC
Virginia Herb Association, Williamsburg, VA
Virginia Master Gardeners State Conference, Blacksburg, VA
Virginia Native Plant Society, Charlottesville, VA
---
Event cost: For non-local events (located more than 50 miles from Charlottesville, Virginia), I request an honorarium of $500 to $1800 (depending on distance, venue, and length of presenation), plus IRS standard mileage rate, airfare, boarding and meals, as necessary. I take into account the nature of the event and limited resources of the hosting organization; however, this is a starting point for negotiation. Driving times over 2-1/2 hours may require overnight accommodations. depending on the time of day for the event. For non-local events, a speaker agreement and deposit is required in advance to confirm the date.
Event cost is tax deductible: Both the honorarium and travel portions are tax deductible, and are used to support on-going research. Payment is processed by Open Hands, a Virginia non-profit 501(c)(3) corporation that receives donations and grants that support our research mission. To avoid a 3% PayPal processing fee on the Open Hands website, mail your check directly to: President, Open Hands, 523 Lexington Avenue, Charlottesville, VA 22902. In the memo section of the check write "McCormack Ethnobotanical Research". When you send a check there is no processing or overhead cost. In this manner, 100% of your donation is deposited to my research account.
---
Recent Keynote/Speaking Topics
Bush Medicine of the Bahamas and the Central Question of Ethnobotany:
how did they figure it out?
Bush Medicine of the Bahamas: the role of medicinal plant literacy and
oral histories in preserving biodiversity and traditional methods of healing
Bahamian Bush Medicine: a traditional method of healing
Procedures, Techniques and Best Practices for Conducting Oral Histories
Oral Histories: Connecting People, Plants, and Biodiversity
Isolation Distances: Principles and Practices for Seed Saving